As Baby A turns 4 months So finally I am back on my blog (I have been active on Instagram though but Blog I didn't see for months now) and I still have to answer all your questions about giving birth in Canada. But let's begin with What do you need to buy before the baby arrives?
With my elder one, it was totally different because he came earlier(at 30 weeks) and we kind of bought his stuff as needed. Hence this time we wanted to be prepared because my pregnancy was high risk with a probability to have earlier birth this time too. Since we had no stuff with us from our first child's time, therefore, it was like shopping for the baby from scratch.
So today I 'll share all the baby shopping list we got to get started with the baby so that anyone who is expecting for the first time knows where to begin with.
Let's Get Started with the baby shopping guide
The Baby Stuff:
We started buying newborn essentials after knowing the gender as wanted to make sure who I am buying for. My obsession with lists of things and functional excel files is for years now. The first thing I did was created a whole list of what I would need and made an excel file that I could always update and see from my phone as well.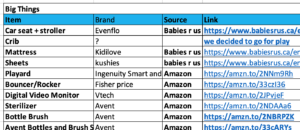 I made a list of newborn essentials category wise and size-wise so I should exactly know what I need and how many.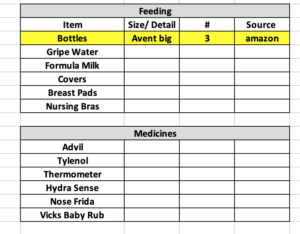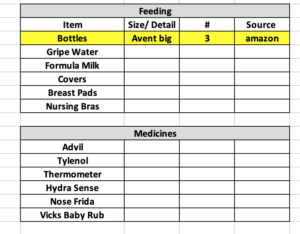 Above are few screenshots however you can download the master sheet with the links here.
Stores:
We went to the following stores for baby shopping
Stuff We Bought
Since I didn't have any baby shower so managed most of the bigger stuff on our own. Few close friends offered to gift n picked up from the baby shopping list In the beginning. Rest of the baby essentials we bought on our own.
Bottle Warmer
Bathtub
Nursing Pillow
Clothes
Diapers
Wipes
Pro-tip to save money: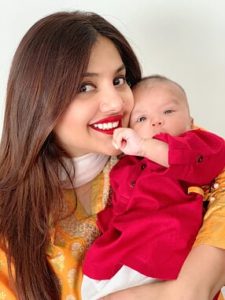 Since we didn't have any baby registry to share with people so we made it for ourselves on babiesrus, bought all the stuff and got a 20% discount too…TAD.
Try looking for stuff at Facebook Marketplace as people do sell good stuff at economical prices. It's ok to have a combination of some new n some 2nd hand good quality stuff if it suits your budget.
When looking to buy for clothes…buy things on the deals, with gap and carters there is always store cash earning or redemption going so keep an eye on that. In H&M and Gap, kids go online and see the sale corner you will find good things at very low prices.
Baby Room
Since we didn't want to set up a separate room for the baby so we decided to make space for his things in our Master Bedroom. And the bigger things we needed were smart and simple playard and a chest of drawers with organizers. With our first one In Pakistan, we did the same and it was convenient by adding mattress we could adjust it at different levels and used it till he was a toddler and he could sit inside and play safe and sound.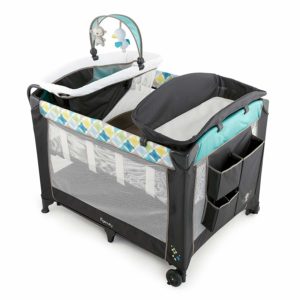 This time we had a playard with a bassinet for a newborn and changing table which made it very compact for us.
Things we bought later
Since we were not sure how breastfeeding and nursing go so we bought a bottle warmer later from amazon you can find here.
With our first one bouncer with vibrations was good enough to soothe him but with this one, we had to buy a swing because he wanted to be rocked most of the time even when he was up. We got a mamaRoo swing from a friend but you can buy from here and trust me it was a lifesaver and best investment one could make.
Shoulder Straps and Baby Hugger
The support inside the car seat wasn't enough for his head so we added few things to comfort him.
Velcro swaddle we bought after one month was a lifesaver specially when we had guests over we would just wrap him inside with a matching cap and it was easier to hold him in arms. Also in night the velcro swaddle had a tight hugging kinda fit which helped him sleep better.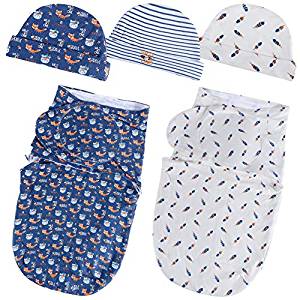 Things we learned
Ask your friends to give u gift cards because most of the people get you clothes n blankets n most of the clothes are not even used and babies grow out of it.
Buy more sleepers then onesies even if its a summer baby because air conditioning can be cold for them too.
Anything that says size 0-6 months DONT Buy. Because either it will fit size 0 or size 6 months. And if it's a complete set of onesie socks and a cap expect that each thing can be of different size.
Buy your nursing bra from a normal brand because the first 3 months can be rough in terms of nipple creams and all so there are times even with nursing pads you might be left with spots on that. So after 3 to 4 months discard them and buy new.
If you decide to pump as I did,  because I was struggling with supply and I preferred bottle than nursing because of my elder one around I wasn't comfortable then make sure the breast shield is for
our size because it took me a month to figure it out n trust me it hurt so bad until I got my personal size breast shields by Medela. Here is how you can find your fit
If you are having a boy make sure you make the appointment for circumcision asap because there is always a waiting time of 2 to 3 weeks. And as the child grows the circumcision charges are increased which btw is not covered by OHIP or Insurance.
I hope the above information helps. If you have any more questions or suggestions let's do it in the comments. Or else you can reach me on my Insta…@ayesha.azeem
Headsup: The above post contains some affiliate links! If you buy something through one of those links you won't have to pay a penny extra but I 'll get a small commission that keeps going the website. Thanks
In my previous blogs, you can find the Hospital bag packing list and Postpartum basket.