Simba is turning 1-year next month wow what a year it has been. I shared a baby shopping checklist with you last year and a lot of you found it very useful and handy. As I keep on getting requests for what product I find useful for my little one for age 6 to 12 months so I am going to share what I bought and found useful so I will keep on adding here.
 Evenflo ExerSaucer Double Fun Saucer, Bumbly
As the walkers are not allowed here so we wanted something he can stand in and be playing at the same time. This Exersaucer has 2 Stages of Use, easily converts to a playtime playmate for use from birth to 4 months old and has 20 Plus Fun Activities, Shapes, bright colors, textures and sounds help baby reach a variety of developmental milestones and can help your baby learn through play Although we bought it late at 9 months as we already had a baby gym.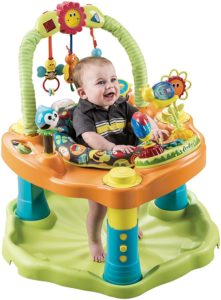 It has enclosed springs for Bounce and Rock action to help build core muscles. Seat SPINS 360 degrees for engaging play with toys that fully surround the baby while providing a secure learn and play environment. Although Simba gave us a hard time and tried jumping out of it several times because he is upper active so we always supervise him whenever he is in that.
Cosco Sit Smart 4 In 1 High Chair – Barcode
 We got "Ingenuity SmartClean Trio Elite 3-in-1 High Chair – Slate – High Chair, Toddler Chair, and Booster" but it looks like on Amazon it's short that's why it is too expensive so a closer substitute is this one by Cosco. The following features makes it more useful.
4 modes of use: high chair, feed booster, travel booster, child chair
Easy wipe seat pad (oh yes you need it)
Dishwasher-Safe insert tray for faster clean up after the meal which means easy to clean
Carry handle for on-the-go use
Holds child up to 50 pound
Cosco 4-in-1 Sit Smart High Chair lets you seat two kids at once! Thanks to the smart design, you can have one child using the feeding booster while your older child happily eats at the very same time in the child chair.
The 4-in-1 Sit Smart can also be used as in classic high chair mode with a full tray. The booster mode folds to a compact size and features a carry handle for use as a travel booster. With an easy wipe seat pad and insert tray, the 4-in-1 Sit Smart high chair isn't just versatile; it's also simple to keep clean after messy meals.
And price wise I find it a great investment too.
Headsup: The above post contains some affiliate links! If you buy something through one of those links you won't have to pay a penny extra but I 'll get a small commission that keeps going the website. Thanks